In loving memory of my beautiful long awaited baby boy Matthew Anthony McPhail. Matthew was born on the 9th of July 2000 at 9:55pm at Naracoorte Hospital. Matthew weighed 6 pds 6ozs or 2.28kgs, he was 50 cms long and had a head circumference of 32.5cms. Matthew passed away 19 mins before he was born (he passed away at 9:36pm) due to being in fetal distress for way too long (most of the day & until he was born).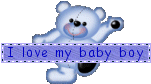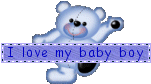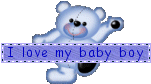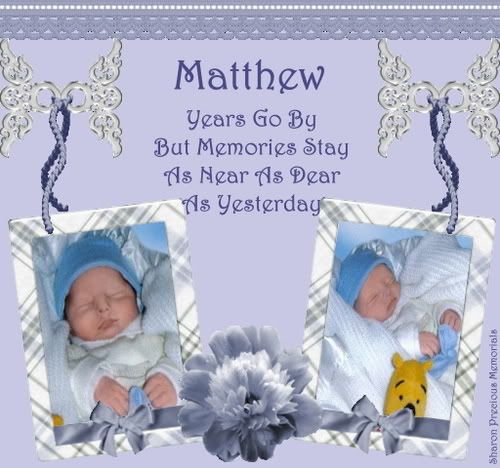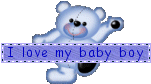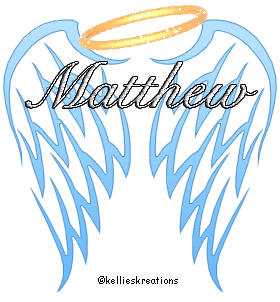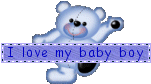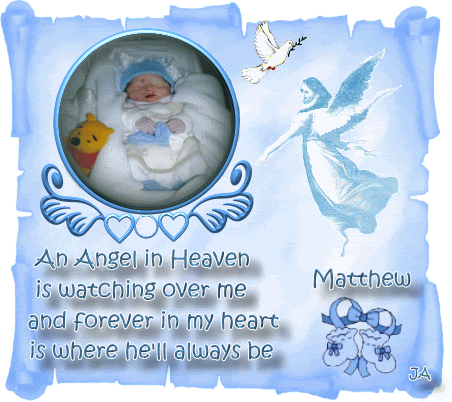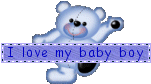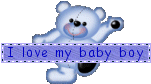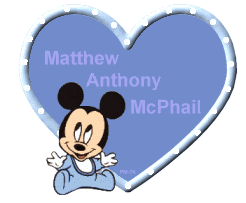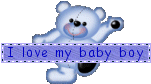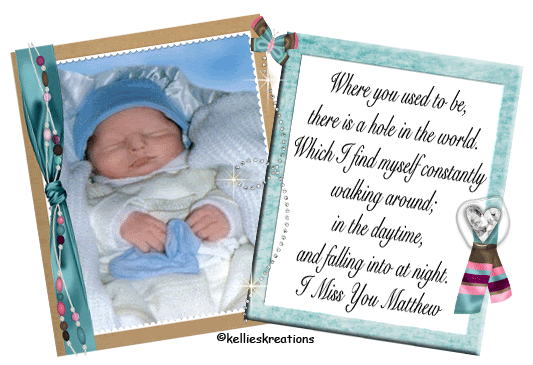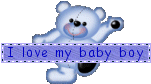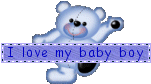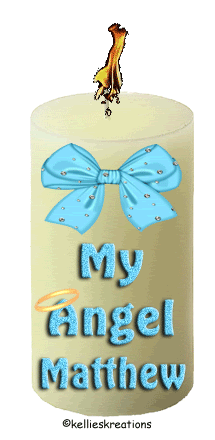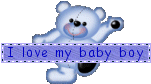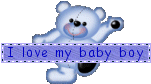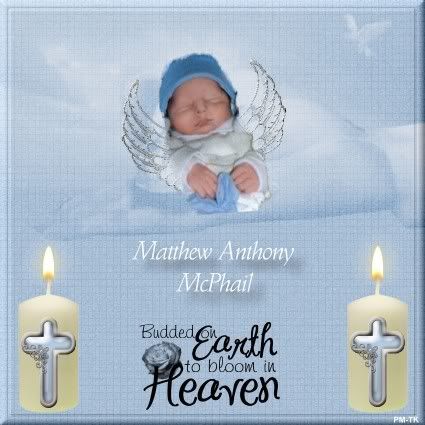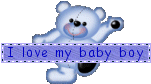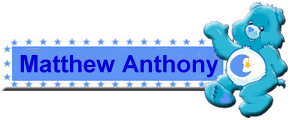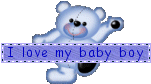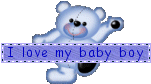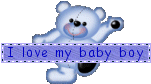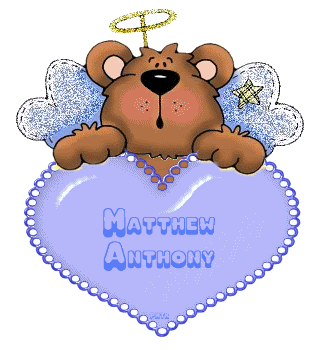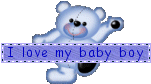 I Have A Little Son!
I have a little son,
who means the world to me.

He's living with the Angels
and is as special as can be.

And even though he's up there
playing in the clouds.

He's still my precious son
and I am so very proud.

His picture takes pride of place
on my living room wall.

Ready to be admired
by all who come to call.

I know I can not hold him,
or bounce him on my knee.

But I only have to close my eyes,
his little face to see.

I will never stop missing him
and wishing he was here.

But sometimes I feel,
indeed I know that he is very near.

So play happily my little son,
you will never be forgot.

I love you so and always will,
though I miss you such a lot.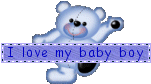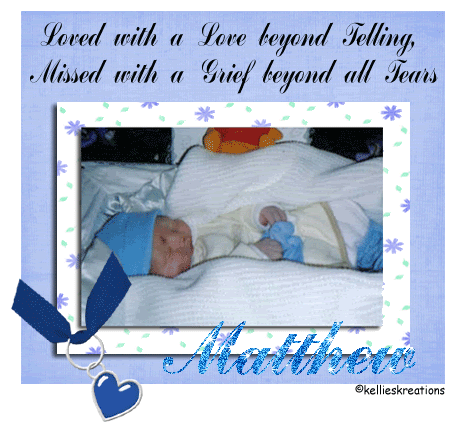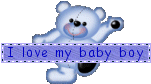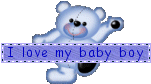 Joy Turned To Sadness!
Joy turned to sadness the day I said good-bye,
but you are with me in my heart until the day I die.
Run to me, with your arms open so far & wide, & jump onto my shoulders & I will give you a ride.

So many things I wanted to do with you,
take a trip into the city & maybe even visit the zoo.
Teaching to you all the things you would need to know, where it is not safe & where it is safe to go.

But you left so early, you never had a chance,
to laugh at Mum, as I tried to show you how to dance.
All these things & more are safely tucked away,
& when I am in heaven, I will teach you anyway.

Until then Matthew, I will continue to grieve,
& wondering to myself, why did you have to leave.
Look down on me Matthew, as I shed my sad tears,
because where you are, there are no tears or fears.

I LOVE AND MISS YOU VERY MUCH MATTHEW
& I WILL UNTIL THE DAY WE MEET AGAIN.
YOU ARE IN MY HEART & SOUL FOREVER!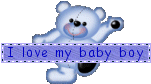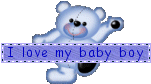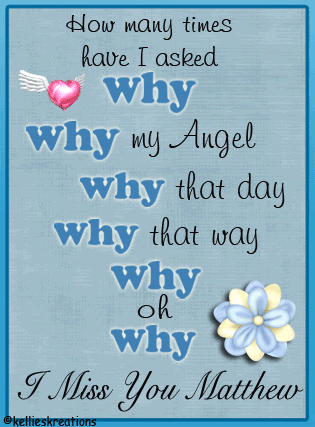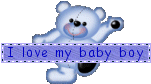 I Am A Mother!
I've loved my child right from the start,
A feeling that's filled my heart.
I went through the labour and suffered the pain,
For many long hours with nothing to gain.
I've spent sleepless nights being awake,
Though it's been a while my arms they still ache.
I've sat and I've wondered of how he would grow,
The love of my family that he'd come to know.
The sound of his voice as he learns to talk,
Watching his steps as he tries to walk.
I have a child that I really love so,
I am his mother yet nobody knows.
I've spent all these months feeling him grow;
I've lived through it all and have nothing to show.
I don't get invited to chat to young mothers,
Because I don't have a baby like all the others.
I've got some stretch marks that I'd like to hide,
But I don't have a pram with a baby inside.
The people I've known for so many years,
Avoid me now, which adds to my tears.
I don't know how long I'll be feeling like this,
But one thing I know, my baby I miss.
When Mother's day comes it will be very hard,
I won't have any flowers, not even a card.
And just because he's not here with me,
I still have a son I wish I could see.
But one thing I know and this is for sure,
I will be his mother forevermore!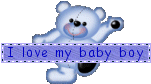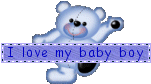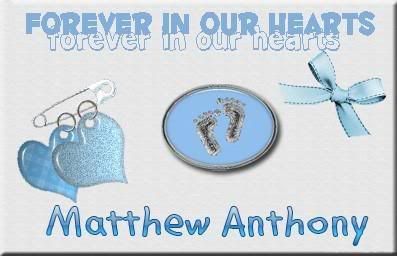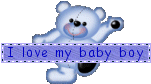 I Never Got To Hear You Laugh!
I never got to hear you laugh,
You never saw me cry.
I didn't get a chance to say "Hello"
And you never said "Goodbye".
I didn't think that I could feel
So sad, lost and forlorn.

I never knew God chose his Angels
Before some of them were born.
Your life was short yet special
I shared it all exclusively.
I felt you breathe, I felt you kick.
You were alive inside of me.

Every baby is an Angel
And every angel is divine.
God needed one in heaven
He came down and took mine.
And although we are not together
We're not really apart
For you'll always occupy a space
Deep within my heart.

Time has not begun to ease my pain
I have gotten good at hiding it when I cry.
I wish I could have said "Hello"
and heard you say "Goodbye".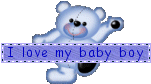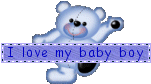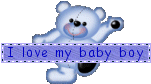 Do Babies Grow Up in Heaven?
Will I know my baby when we meet again?
Will he have grown up,
Not be the baby that died in my tummy?
Will I recognize him,
Be able to find him amongest the angels?

Or will he be a stranger to me,
Not knowing who I am,
Or me knowing him?
Do babies grow up in heaven?

He never got his first tooth,
Or said his first words.
No first shoes, no Santa,
No first birthday cake.
Will my son still be a baby
when we meet again?

Do babies grow up in heaven?
Who sings him precious lullabies?
Who holds him close and
Kisses him everyday?
Who tells him constantly
that they love him?

Do babies grow up in heaven?
When we next meet,
Will he know me?
Will he want to know me?
Will he be my son who died at birth,
Or a man, fully grown?

Will I have the joy of being a mother
To my son for all eternity?
Do babies grow up in heaven?
Will I be able to hold him,
Love him, sing lullabies to him?

Will I be able to hold his tiny hand,
Or will it be a man's hand?
Will I ever have the joy that
Only holding my son can bring?
I need to know! In heaven
Is my baby still a baby?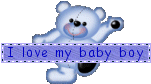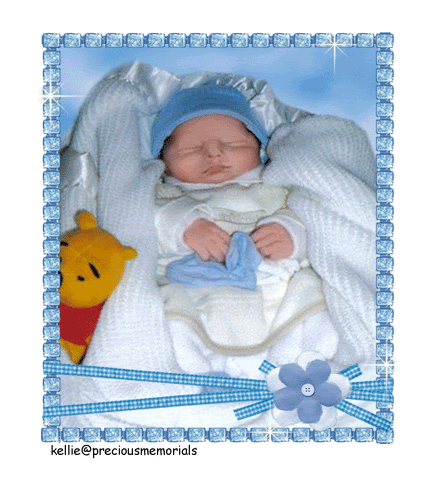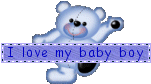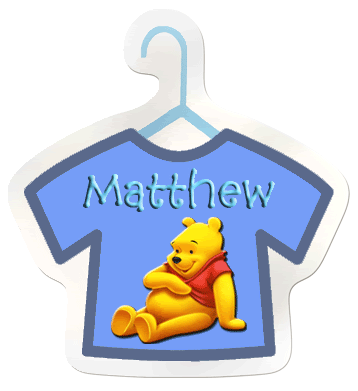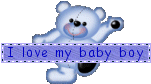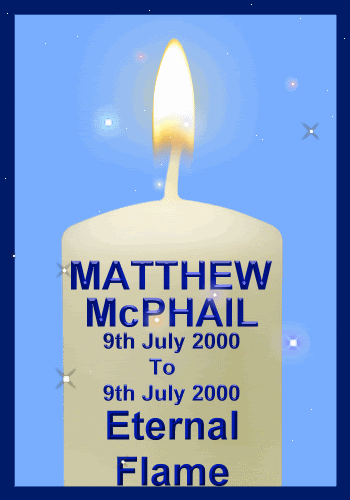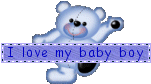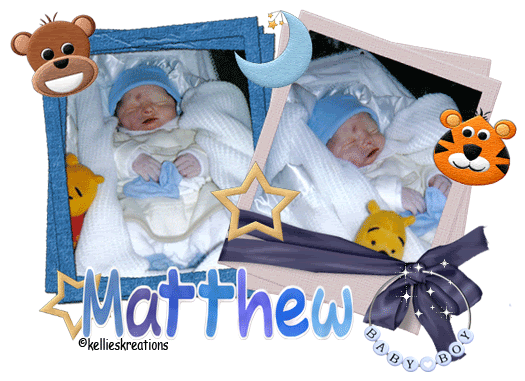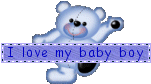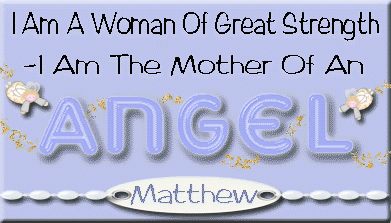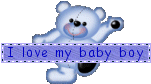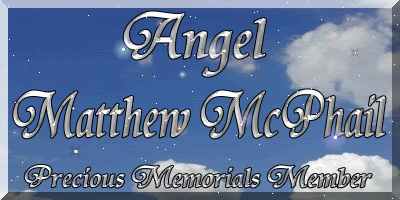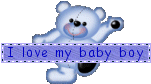 THANK YOU SO MUCH FOR VISITING MY BEAUTIFUL ANGEL BABY MATTHEW.


MATTHEW HAS SOME VERY SPECIAL ANGEL FRIENDS PLAYING WITH HIM IN HEAVEN, PLEASE TAKE SOME TIME TO HAVE A VISIT THESE BEAUTIFUL ANGELS.


http://gemma-ling.memory-of.com
http://kayla-evelyn.memory-of.com
http://siobhan-bryantmillar.memory-of.com
http://Chino-Perez.Memory-of.com
http://Sophiagracedillon.memory-of.com
http://Hannah-Card.memory-of.com
http://Patrickjayclark.memory-of.com
http://Vanessa-barnai.memory-of.com
http://Hendryxaustynragle.memory-of-com
http://Jace-means.memory-of.com
http://julia-ann-corliss.memory-of.com
http://killianskorner.memory-of.com
http://calum.memory-of.com
http://grace-serafin-mangino.memory-of.com
http://patrickrosas-rochelle.memory-of.com

http://amaya-angali-baldath.gonetoosoon.org

http:Eli-Alvarez.Last-Memories.com

http://alexis-goudelock.memory-of.com

http://ryan-thomas.memory-of.com
http://stillborn-angels.memory-of.com